This weekend was the second Maine Crime Wave conference, and it was a blast.  Maine has an embarrassment of riches in the crime writing world, and some of the best in the business were on hand this weekend. There was a lot to learn, a lot to share and plenty of laughs along the way.
Here is a photo of me with Lea Wait, who writes cozy mysteries (her latest is Twisted Threads)  as well as young adult mysteries (her latest, Uncertain Glory, has been nominated for an Agatha Award) and Chris F. Holm, whose Big Reap, the third in his Collector Series, has been nominated for an Anthony Award. His thriller The Killing Kind, to be released in September, is drawing rave advance reviews.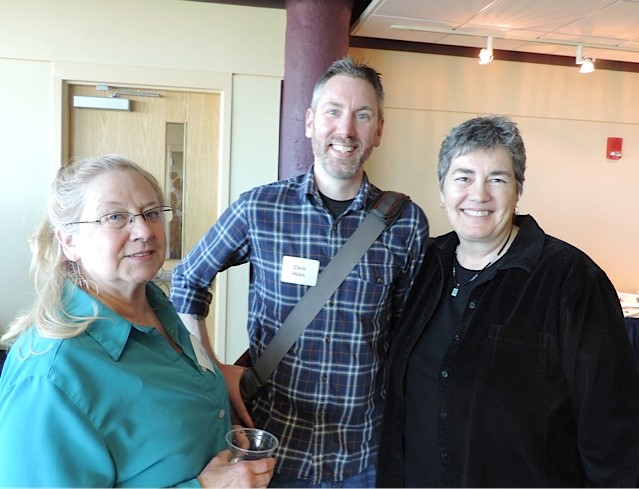 At Friday night's event, Two Minutes in the Slammer, ten intrepid writers took to the microphone and wowed the audience with brief, powerful passages from their work.  Kudos to Anne Fowler, Bruce Robert Coffin, E.J. Fechenda, Heidi Wilson, J.T. Nichols, Jen Blood, Kathy Lynn Emerson, Lea Wait, Maureen Milliken, Sandy Neily, Alice Adams and Jim Hayman for giving such terrific, brief readings.
On Saturday there was a full schedule of panel discussions, workshops and manuscript critiques, and plenty of time to hang out and swap stories. Authors who participated in panel discussions and led workshops included Gerry Boyle, Gayle Lynds, Kate Flora, Paul Doiron, Lea Wait, Kathy Lynn Emerson, Barbara Ross, James Hayman, Chris Holm, Sarah Graves and Al Lamanda.
Here's a shot of the panel I moderated, which was about writing a series. That's me on the left, along with Kathy Lynn Emerson (nominated for an Agatha this year for her short story The Blessing Witch, Sarah Graves, who in January released the first in her new Lizzie Snow series, Winter at the Door, and Al Lamanda, whose John Bekker series continues to draw rave reviews.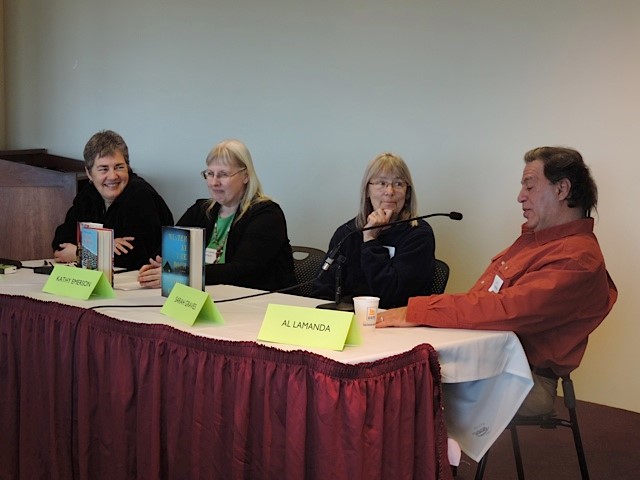 As Josh Bodwell, director of the Maine Writers and Publishers Alliance mentioned, even though it was the first springlike day after a brutal Maine winter, the fine weather didn't dissuade the crime writers—those who pen mysteries, thrillers, suspense, cozy, noir, historical, young adult and true crime—from spending the day on the top floor of Glickman library, talking shop.