On January 5 I had the great pleasure of participating in a panel discussion with three wonderful crime writers at East City Bookshop in Washington, D.C.
Called Unspeakable Crimes, LGBTQ Mystery Writing, the evening was sponsored by OutWrite and held at East City Bookshop on Pennsylvania Avenue.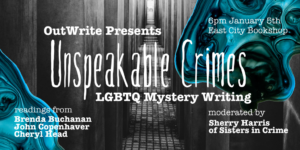 The other participating authors were Cheryl Head, John Copenhaver and Sisters in Crime president Sherry Harris, who moderated the discussion.
Cheryl writes the fabulous Charlie Mack Motown Mystery series, featuring an African American lesbian PI from the east side of Detroit. The first book is Bury Me When I'm Dead. The second is Wake Me When It's Over and the third, to be released in March, is Catch Me When I'm Falling.  If you read one, you'll read them all.  Trust me.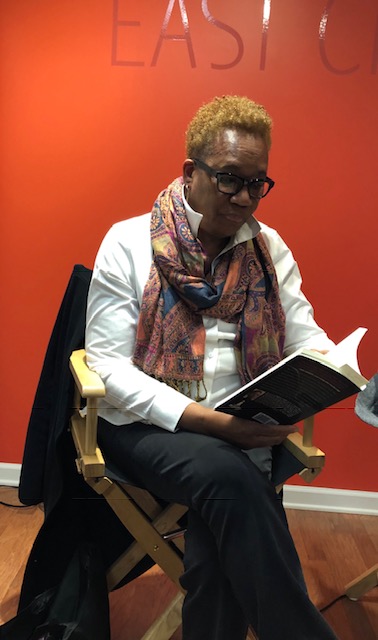 John's debut novel, Dodging and Burning, is getting a lot of well-deserved buzz. A historical crime novel set in WWII-era Virginia, it received starred reviews in Publishers Weekly and Library Journal, and was LJ's Debut of the Month. I know I couldn't put it down, and agree with the rave reviews. It was called "a riveting debut" by Associated Press and  "a masterwork of tone and voice" by BOLO Books.
Sherry Harris is the author of a terrific cozy series, the Sarah Winston Garage Sale Mysteries. Her sixth book in the series, The Gun Also Rises, will be released on January 29. Sherry is an accomplished moderator who got us talking about the need for and value of LGBTQ protagonists in crime fiction and many other aspects of our writing lives.
A summary of the discussion was published this week by the indefatigable Kristopher Zgorski of Bolo Books. You can find it here. http://bolobooks.com/2019/01/unspeakable-crimes-a-bolo-books-event-recap/
It was great to spend the evening with such terrific, talented writers, to see old friends and meet some new ones. Many thanks to East City Bookshop https://www.eastcitybookshop.com/ for hosting and OutWrite DC http://thedccenter.org/outwrite/ for sponsoring this event.
All credit goes to my wonderful spouse, Diane Kenty, for the fine photographs.