It is our custom to walk the beach on New Year's Day no matter the weather, to inspect the sea and the detritus the waves have carried to shore.
The first day of 2017 was sunny and warm with a light breeze, making for an especially pleasant visit to Scarborough Beach. Temps have been up and down in recent weeks, so there were no skaters on the ponds that flank the path.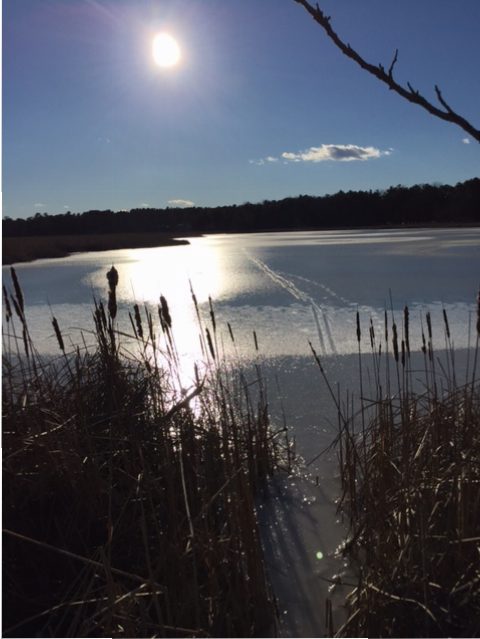 The tracks of an intrepid skier—no doubt left on a recent cold day—were the only marks across the now-thinned ice.
A lone glove was marooned above the high tide line. I photographed it to add to my collection of images of solo mitts found on the beach.

The end of one year and the beginning of the next always prompts me to read poetry, looking for insight and inspiration.  A favorite this year is the Irish poet, philosopher and environmental activist John O'Donohue, who was born on New Year's Day in 1956 and died on the fourth of January, 2008.  His powerful poem Beannacht—which means benediction in Irish—was read at a concert I attended in December.
Beannacht
On the day when the weight deadens on your shoulders
and you stumble,
May the clay dance to balance you.
And when your eyes freeze behind the grey window
And the ghost of loss gets into you, may a flock of colors, 
Indigo, red, green and azure blue,
Come to awaken you in a meadow of delight.
When the canvas frays in the currach of thought
And a stain of ocean blackens beneath you,
May there come across the waters
A path of yellow moonlight to bring you safely home.
May the nourishment of the earth be yours,
May the clarity of light be yours,
May the fluency of the ocean be yours,
May the protection of the ancestors be yours.
And so may a slow wind work these words
Of love around you, an invisible cloak to mind your life.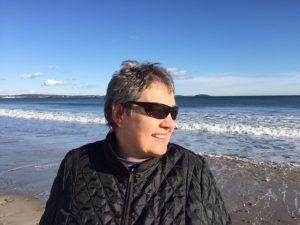 Wishing you courage and creativity in the new year.