I was transported last night back to the Central Massachusetts paper mill town where I was raised. It was the early 1970s and the community was in the middle of a long strike. My parents didn't work in the mills but that didn't matter. With the millworkers on strike pay, every small business in town felt the pinch. As a young teenager, I was just old enough to understand what it meant to live in a mill town.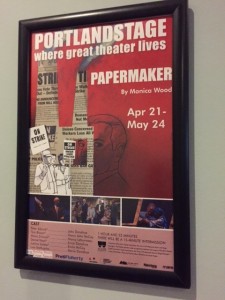 Maine's brilliant Monica Wood has the ability to help people who did not grow up in places like her hometown of Mexico—located across the mighty Androscoggin from the Oxford Paper Company's Rumford mill—understand.
Last night, when her play Papermaker premiered at Portland Stage Company, I was fortunate to have a seat in the packed theater. Because not many plays are written about the lives of people who work in mills, a number of proud papermakers were in the audience. I spoke briefly with one after the standing ovation finally ebbed. We both had tears in our eyes.

On one level, Papermaker is about a paper mill strike, but on another it's about life itself, and love. Love of place. Love of family. Love and respect for what has been built by those who have come before us, and the importance of not allowing it to be washed away by the floods of change.
Papermaker is about solidarity, both in the union hall and in the living room, where families and friends know that sticking together—having each other's backs in tough times and embracing each other's joys when life is good—is the key to everything.
Papermaker runs in Portland through May 24. See it if you get the chance, and then, if you haven't already, read Monica Wood's books, including Ernie's Ark and the marvelous When We Were The Kennedys. You will be so glad you did.