I was honored to be part of a terrific panel at the inaugural Local Authors Showcase at the Scarborough Public Library this evening.  I was glad for the chance to talk with readers about Quick Pivot, and excited to hear about the books of some of my Portland-area peers.
Here I am with Richard Afuma, whose memoir, The Python Trail – An Immigrant's Path from Cameroon to America was published by DownEast Books in May.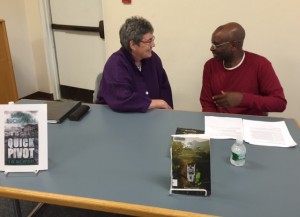 I'm sorry not to have gotten a shot of Stephen Johnson, whose debut novel Those That I Guard, came out last November, or Richard Shain Cohen, whose book Our Seas of Fear and Love is the seventh he's published. It was great to hear from both of them.

My fellow crime writer Joseph Souza was there to talk about his most recent book, Unpaved Surfaces. Here we are smiling for the camera.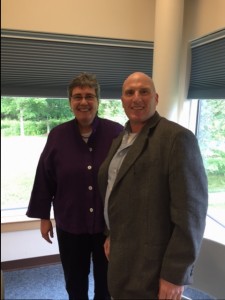 Many thanks to Adult Services Manager Catherine Morrison and Programming and Development Manager Celeste Shinay for putting this very nice event together.