Who doesn't love libraries?
Henry Wadsworth Longfellow is credited with this lofty quote: The student has his Rome, his Florence, his whole glowing Italy, within the four walls of his library.  He has in his books the ruins of an antique world and the glories of a modern one.
But I also like Paula Poundstone's take: The truth is, libraries are raucous clubhouses for free speech, controversy and community.
Libraries also are also wonderful places to meet readers and talk about your book if you're a newly-published writer. In recent weeks I've had a terrific time at three local libraries doing just that, and I'm looking ahead to three more events this week and next.
James Rathbun and the rest of the staff at the beautiful Baxter Memorial Library in Gorham hosted me on May 27, one month to the day after Quick Pivot was released.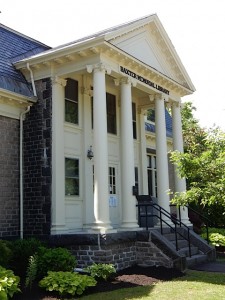 I was honored to speak in one of the beautiful rooms in the old part of the building, which was built in 1908 by James Phinney Baxter. It was a wonderful evening with an intimate, supportive group of readers.
A couple of days later I spoke at the Portland Public Library over the lunch hour. Rachael Harkness and Harper Chance helped with publicity and room set up, and a good group of folks came. We had a lively discussion about, among other things, female authors writing male protagonists and the ins and outs of e-books.

On June 4 I was honored to speak in my own town of Westbrook, at the historic Walker Memorial Library.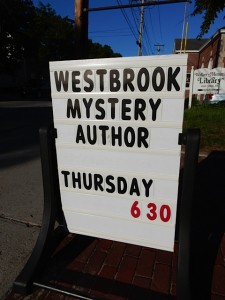 The enthusiastic and efficient adult services director Kyle Neugebauer posted eye-catching signs on both the Main Street and Clark Drive sides of the building, which brought in a gang of readers eager to talk about mysteries and mill towns.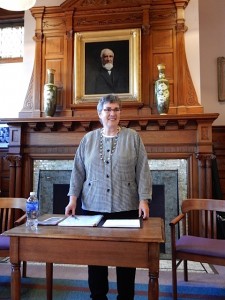 This Friday night, June 19, I'll be part of a panel discussion in Brunswick at Curtis Memorial Library with the fabulous Kate Flora (winner of the 2015 Maine Literary Award for crime fiction) and the marvelous Barbara Ross (whose Maine Clambake Mysteries are the perfect beach read, especially if you love Boothbay – I mean Busman's – Harbor.) The discussion begins at 6 p.m. in the Morrell Meeting Room. Kate and Barb are talented writers and valued mentors. I'm sure it will be great fun.
On June 24 at 6:30 p.m. I will be one of six authors speaking at Scarborough Public Library as part of its inaugural Local Authors Showcase. I am looking forward to hearing about the work of the other five writers on the program: Richard Afuma, whose memoir The Python Trail: An Immigrant's Path from Cameroon to America, was released on May 20, Richard Shain Cohen, whose most recent book is a romance/family saga called Our Seas of Fear and Love, Stephen Johnson, a lawyer-turned-novelist who wrote Those That I Guard, Anthony Rich, whose memoir The Lighter Side of Falling tells of his survival and recovery from a 17-story fall that occurred when he was painting a mural on the side of a Detroit building, and last but not least, my crime-writing colleague Joseph Souza, whose most recent novel, Unpaved Surfaces, focuses on a Maine town's struggle to cope with the murder of a nine-year-old boy.
I'm looking forward to sharing the stage with such a terrific group of writers.
The next evening, June 25, I will be going "home" to Peaks Island to read at 7:00 p.m. at the busy little library on Island Avenue. I know first hand how much Peaks folks treasure the Peaks lib, where the staff goes above and beyond to match readers with books they'll love. I can't count how many new-to-me writers Priscilla Webster and Roseann Walsh suggested I check out in the dozen years I lived in that community, and their recommendations were always spot on.
Many thanks to the Friends of the Peaks Island Library for the invitation.  Part of Quick Pivot takes place on Peaks, and part of my heart still lives there, so that reading will be special.