It's after 10 p.m. and I'm winding down from a lovely Sunday here in Southern Maine. Take a look: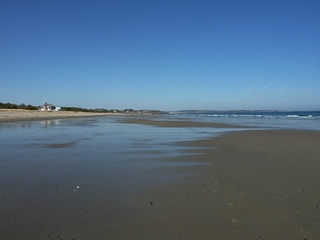 I have work to do yet tonight so I'm going to make this post a quick list of the weekend's joys.
We spent time with all of the members of my clan minus one yesterday at a St. Patrick's Day party. My mother was in her glory, surrounded by her kids, grandkids and great-grands. The Alzheimers hasn't robbed her of her joie de vivre, especially when children are in the room and Irish music is playing in the background.

I enjoyed a productive meeting with a writer friend this morning, dissecting our works in progress. It's been a long winter of revision for me. In recent weeks I've felt myself approaching a turning point. Today's meeting was affirming in that regard. But then, I've begun to believe winter is done, so I may simply be in a dangerously optimistic frame of mind.
It was impossible not to revel in the fine weather, even though a voice inside my head nags that it shouldn't be 78 degrees in Maine in mid-March. That was the temp when I left Auburn about 1:30, so I popped the sunroof open and sang along with Van Morrison all the way home.
It was cooler when I got back to the coast, but still May-like on our beach walk.
Signs of spring were everywhere. The sand no longer being like half-set cement, a youthful engineer built a fine sandcastle.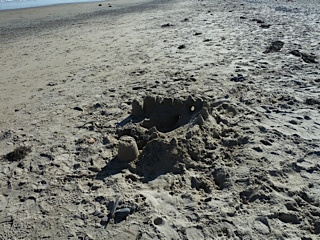 Teenaged girls strolled the beach in shorts and flip flops while their shirtless male peers played frisbee.
Some folks brought beach chairs and basked in the warmth. (The owners of this pair were beachcombing when I snapped the photo.)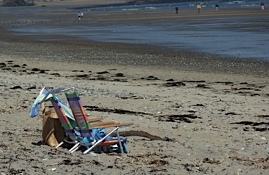 A redwinged blackbird trilled its heart out as we skirted a marsh on our way back to the car.
At dusk, a chorus of peepers serenaded me while I stood on the deck, grilling for the second Sunday in a row.