Welcome to the website of Maine author Brenda Buchanan.
Cover Story, the second book in the Joe Gale Mystery Series, will be released on September 28, 2015. Here's the cover: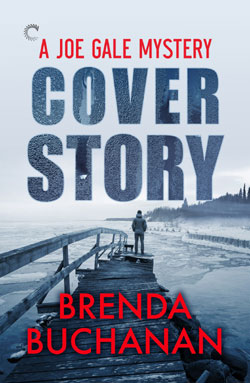 Here's what Sarah Graves, author of Winter At The Door and the Home Repair is Homicide Series, said about Cover Story:
COVER STORY gets Downeast Maine right, from its hard-headed, warm-hearted inhabitants to its remote, tragic beauty. Brenda Buchanan spins a devious, deeply-felt tale as dark as a Maine winter. Add a smart, seasoned journalist-hero Joe Gale and Buchanan's own intensely readable prose and you've got another you're-gonna-love-it winning entry in an excellent series.
Here's a quick summary of the plot:
Maine newspaper reporter Joe Gale is at his best when covering the crime beat for the Portland Daily Chronicle. In the dead of winter he heads Downeast to cover the murder trial of fisherman Danny Boothby, charged with burying a filleting knife in the chest of politically well-connected social worker Frank O'Rourke.

O'Rourke held a thankless job in a hard place. Many locals found him arrogant, but say he didn't deserve to die. Others whisper that O'Rourke got himself killed through his own rogue behavior.

After Joe's hard-nosed reporting provokes someone to run him off an isolated road, he realizes his life depends on figuring out not only who committed the murder, but who's stalking him—O'Rourke's prominent brother, friends or enemies of the dead social worker or members of Boothby's family. As he digs deeper, Joe uncovers enough secrets and lies to fill a cemetery. He'll have to solve this one fast . . . or his next headline may be his own obituary.
Can't wait till the end of September? Quick Pivot, the first book in the Joe Gale Mystery Series, is available now!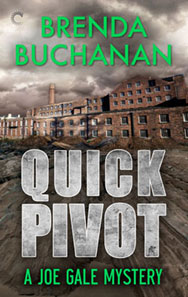 "Brenda Buchanan brings her storyteller's craft and her lawyer's eye for detail to this powerful story of secrets from the past emerging explosively in the present. As compelling as the story itself is her deep understanding of Maine—the complexity of her generous, honest, grouchy, and shady characters, and the physical and social geography of a state where failing industries can destroy whole towns."
— Kate Flora, award-winning author of And Grant You Peace
"The brisk plotting and crisp dialog in Quick Pivot will suck you in immediately. This debut has action, heart, and twists in all the right places. Brenda Buchanan is a talent to watch!" — Steve Ulfelder, Edgar finalist author of Wolverine Bros. Freight & Storage
"The surprises start on page one of Brenda Buchanan's debut novel, Quick Pivot, when a skull rolls out from behind a collapsed wall of an abandoned mill being demolished to make way for real estate development near Portland, Maine. The story behind the story gets unearthed in this promising new series that introduces reporter/sleuth Joe Gale." — Hallie Ephron, author of Night Night, Sleep Tight
You can find Brenda's books at the following ebook retail locations:
Carina Press | Amazon | Barnes & Noble | GooglePlay | iBooks |Kobo