This past weekend was the annual Maine Crime Wave conference and what a time we had.
Acclaimed thriller and non-fiction author Douglas Preston was the Guest of Honor and the winner of the 2018 Maine CrimeMaster Award. He wowed the crowd on Friday night and Saturday morning with tales of his research trips to remote parts of the planet and terrific anecdotes about his on-going collaboration with Lincoln Child on thrillers that top the best-seller lists.
Barbara Ross led a terrific panel discussion Friday night about crafting irresistible openings, with Julia Spencer-Fleming and R.G. Belsky.
An hour later I moderated a discussion with domestic suspense writers Daniel Palmer and Joseph Souza about writing compelling endings.
Pretty much the entire gang associated with the Maine Crime Writers blog was there, which is always a wonderful thing.
Enormous thanks go out to Gayle Lynds and the rest of the organizing committee, and to Josh Bodwell, executive director of the Maine Writers and Publishers Alliance.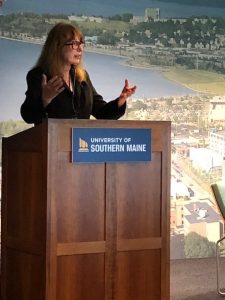 Putting on a two-day conference with such high quality programming takes a lot of work, and they deserve tremendous credit. The venue, the schedule, the food and the inclusive tone were pitch-perfect.
Thanks also to bookseller Barbara Kelly of Kelly's Books-to-Go for managing the brisk business at the book table with her trademark smile.
Credit for these photos  goes to my spouse, Diane Kenty, who did a wonderful job capturing the happy and engaged spirit of the weekend.