September came and went in a blink, which so often happens when you are having a lot of fun.
Bouchercon, the international conference of crime writers, was in St. Petersburg, Florida the weekend after Labor Day weekend. Held at the fabulous Vinoy Renaissance Hotel, it was a blast.  Highlights? Watching Lawrence Block interview Ian Rankin, the panel of women thriller authors (Lori Roy, Shannon Kirk, Meg Gardiner, Chris Goff and Lara Dearman – wow!), the Anthony Awards ceremony, and the opportunity to meet and chat with so many writers, agents and editors throughout the weekend.
I took part in a panel discussion titled "Somewhere Over the Rainbow – LGBTQ in Crime Fiction," with Stephanie Gayle, John H. Copenhaver, J.M. Redmann and Alison R. Solomon, moderated by publicist extraordinare Dana Kaye. It was a good discussion with terrific writers, some of whom I'd not met before and all of whom I look forward to hanging out with at future conferences.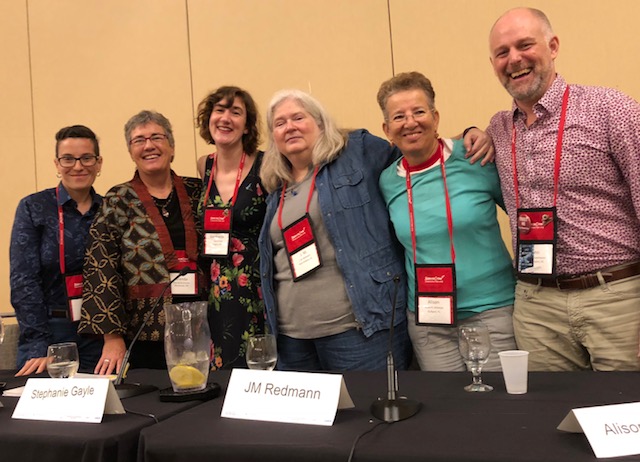 In the middle of the month I took myself off to Peaks Island for a week's writing retreat as part of the Illustration Institute's Faison Residency Program.
The brilliant memoirist Elizabeth Peavey was also in residence that week, in a long, low stone house across the lane from the wonderful, multi-porched turn of the twentieth century cottage where I stayed.
Liz and I shared dinner and writing talk a couple of nights, and on Thursday the 20th did a joint presentation at the Fifth Maine Regiment Hall and Museum.
Memoir and mystery are different genres to be sure, but writing is writing.
It was a pleasure to meet with such an enthusiastic audience of readers and talk with Liz about our process and current projects.
Many thanks to Scott and Nancy Gibson-Nash of the Illustration Institute for inviting me for a second year, and to John Faison, whose generosity has taken the residency program from dream to reality.
I'm sure the artists who have participated in the Faison residency agree – there's nothing quite like uninterrupted time in an inspirational setting to create. It's a treasure beyond words.
In October I'll be up on Bar Harbor at the beautiful Jesup Memorial Library for the annual Murder By The Book conference October 26-27 (for details: https://jesuplibrary.org/mbtb/) and on Tuesday October 30th I'll be at Thomas Memorial Library in Cape Elizabeth with my colleagues Barbara Ross and Richard Cass constructing a mystery with the assistance of the audience. For more info: http://www.thomasmemoriallibrary.org/events/?event_id=7228