It's Maine and it's February, which means it's often cold and frequently snowing. This month has been off the charts cold and snow-wise, but if you let the weather coop you up inside, you miss a lot.
Case in point: today's beach walk. Virtually every Sunday afternoon we head out to one of the local beaches for a bit of fresh air. Our favorite is Scarborough Beach, but the hike in through the marsh ponds feels endless on a really cold day, especially on the way back to the car after 45 minutes of being buffeted by the wind.  This afternoon icy snow pellets were bouncing off the windshield, so we passed on Scarborough Beach.
When the footing is decent we go to  Crescent Beach in Cape Elizabeth, where the hike through the woods and fields to the south end of the beach is especially lovely. But when there's several feet of snow on the ground it requires snowshoes, and we'd forgotten to put ours in the car today, so Crescent was out.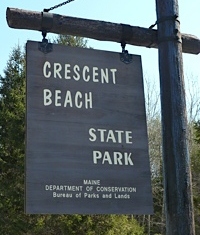 At Pine Point there's an amazingly well-plowed parking lot quite close to the beach itself, making it the best choice on bitter cold, ice-pellets-falling-from-the- sky days, so that's where we wound up. When we arrived it was seven degrees and the wind was up. The plow-up at the beach end of the parking lot was eight feet high, with one narrow pathway down to the beach. I led the way, clad in my winter beach walking gear–fleece hat with facemask, parka with hood, shades because the flat, white glare can give me a headache.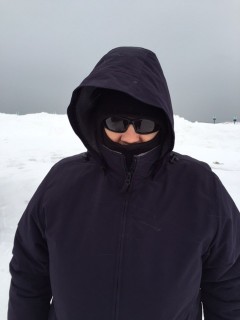 There was a narrow path of packed-down snow, one boot width wide. I was making my way along this narrow path, taking in the gray sea against the gray sky, thinking about how stunning the winter beach is, and how lucky we are to know its beauty.  Here was today's monochromatic scene.  Gray. White. Sand. More gray.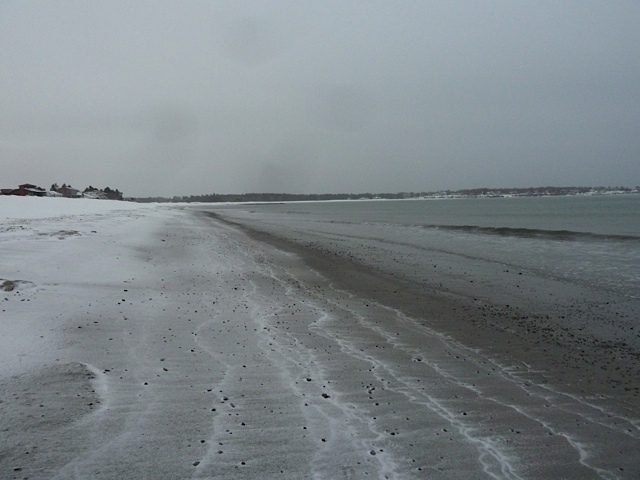 I was smiling beneath my balaclava, feeling as invigorated as all get out, when my sunglasses fogged up, obscuring the way forward. In a split second the path merged with the drift, and I was up to my right hip in snow. My left foot somehow remained on the path, but my right boot was unable to reach the bottom of the drift.  Such a dilemma.
Having no solid ground to push off, it took some clever contortions and an able assist from my sweetie to extricate my lost leg from the hungry drift. Happily, there is no photo of this part of our afternoon, and there were no witnesses.